It's been said that the best thing for the inside of a man is the outside for a horse. Here in Johnson County you can find out just how true that statement really is!
Many of our popular out of town trails double as amazing horseback riding trails as well. Whether you've got your own cavvy or would like to take a day ride with an outfitter, we've got you covered.
Head Out On Your Own
Bud Love Wildlife Habitat Management Area:
6 mi NW of Town on French Creek Rd, 2 mi in on North Sayles Creek, 7900 public acres and two entrances
Great For: Horses, Hiking, & Biking
Expect: Fewer People, Incredible Views, Gorgeous Canyon Hike up the Face, Fishing
Popular: Firebox Park, Rock & Keno Creek – Wind through a stunning canyon up the face to Firebox Park & moderate trail loops through Rock & Keno Creek. This is a hidden gem!
Head Up the Mountain
Circle Park
FS Road 20, 13 mi W on Hwy 16
Great For: Hiking, Horseback Riding
Expect: Heavy Use, Stunning Views, Great Fishing, Camping Nearby
Popular: Sherd Lake – 1.8mi | Rainy Lake – 6mi | Willow Lake – 8mi
Hunter Corrals
FS Road 19, 12 mi W on Hwy 16
Great For: Horses & Hiking
Expect: Corral Hosts to Help with Horse & Trail Knowledge, Fishing, Camping Nearby
Popular: Seven Brothers Lakes – 8mi | Florence Pass/Bomber Mountain – Long, gradual hike, historic monument & wreckage of the military bomber that crashed there in 1943.
Contact our local Game & Fish (307-684-2801), BLM (307-684-1100) and US Forest Service (307-684-7806) for maps, trails & advice. Or head to the Sports Lure, downtown Buffalo, for maps, gear and tips.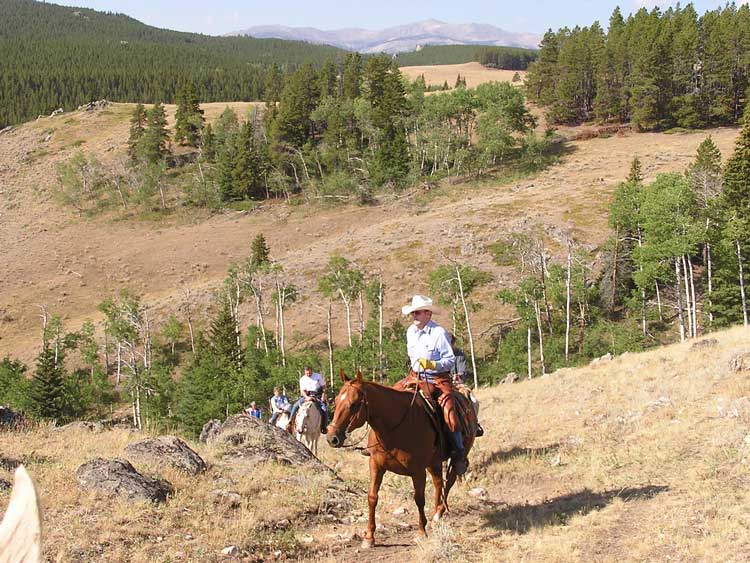 Guided Day Rides
Have just a few hours? Experience stunning views and breathtaking vistas via guided horseback rides. From a couple of hours to half and full day rides, outfitters have the know-how, experience and horses to take you for a ride you'll not soon forget.
Great For: Nearly Anyone
Who to Contact: Blacktooth Excursions – www.blacktoothexcursions.com
South Fork Outfitters – www.lodgesofthebighorns.com/south-fork-lodge