Our 3 Day Summer Itinerary series is here! Offering ideas, places to see and things to do to get the most out of your journey to Summer Adventure. You can move straight to Day Two by clicking the link at the bottom or download the complete 3 day itinerary. Let's begin, shall we?
Explore Downtown Buffalo
Experience Buffalo's small-town atmosphere with local Art & Pottery shops on Main, Fort, and Lobban streets, clothing, antiques and specialty stores and a family owned sporting goods store. 
Main Street also features the Official Longmire store, The Bucking Buffalo, owned by Craig and Judy Johnson; the author of the Longmire series of books and organizer of the Longmire Days held annually in July.
Have coffee, lunch and desert at some of the locally owned shops on Main Street, all within walking distance, and relax in Crazy Woman Square while taking in the murals painted by local artists.
Galleries & Shopping
Potter's Depot | Crazy Woman Fine Art | Margo's Pottery | Powder River Art Gallery Wyoming In Color | The Hitching Post Gallery | Treasure Chest Antiques & Collectibles The Sports Lure | Reride Western Wear | The Bucking Buffalo | Silver Sage | & More
Head for the Hills
Crazy Woman Canyon – A Beautiful Mountain Drive Loop – Call the USFS for more info 307-684-7806 Take a drive on Hwy 16 West towards the Bighorn Mountains.  
Enjoy the views, take a hike at Hunter Corrals, Circle Park or Elgin Park, all trailheads nestled just 15-20 minutes away from downtown Buffalo.
About 25 minutes from Buffalo, a left turn at Forest Road 33 takes you past Muddy Guard Cabin and onto Crazy Woman Canyon road. This road winds its way down the canyon, offering scenery and a drive that are breathtaking, and brings you out at Old Hwy 87, south of Buffalo.
Listen to the beautiful sound of the water cascading through the rocks of Crazy Woman Creek or stop for a quick picnic at some of the campsites along the scenic road. (May-October, 4 wheel drive only).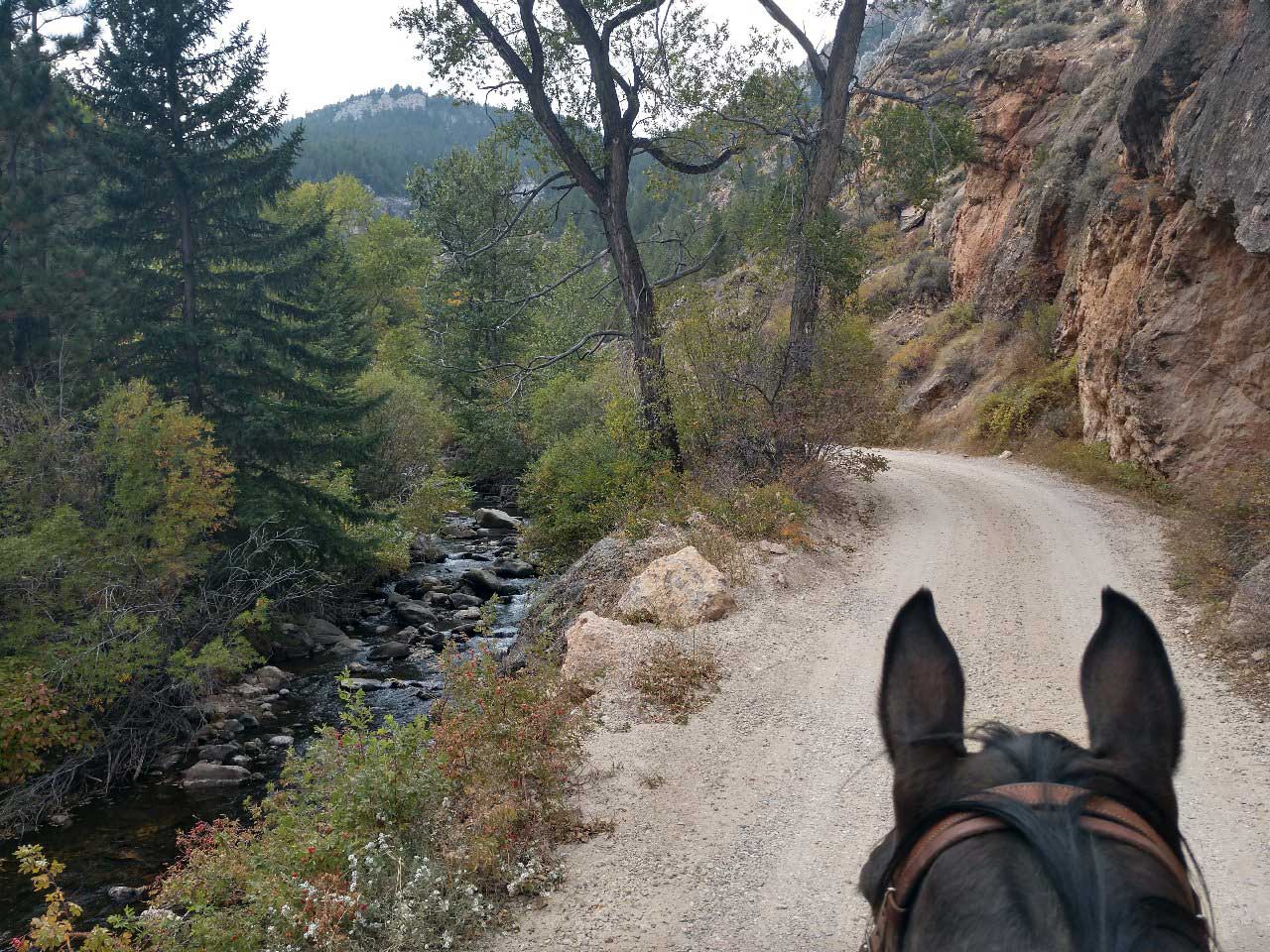 TA Ranch – Site of the Last Battle of the Johnson County Cattle War
After passing through the Canyon and driving for about 6 miles through beautiful ranch country, you will intersect Old Hwy 87.
Take a right turn (South) and travel 3 miles to the historic TA Ranch. There you can find "bullet" proof history of the Johnson County Cattle War. While you are there, take a tour under the old cottonwood trees, the barn, and stay for an excellent supper at the old cookhouse with views toward the prairie that take you back in time. www.taranch.com