Day Two of our Three Day Summer Itinerary series takes you for breakfast on main street, on a lovely walk along clear creek and a tour of your choice while topping it all off with a visit to the Historic Occidental and dinner at one of our many fine restaurants.
You can move straight to Day Three by clicking the link at the bottom or download the complete 3 day itinerary. Your ready? Let's go.
Breakfast & A Walk
After a great breakfast at the Busy Bee Café or Main St Diner, get some fresh air with a walk down Clear Creek Trail.
Though you can access this well-maintained, easy walking trail at several locations in town, a close spot is just across the bridge from the Busy Bee Cafe, next to the restaurant, 4th on Main.
Follow the creek through the parks, across Klondike Rd and head West towards the mountains.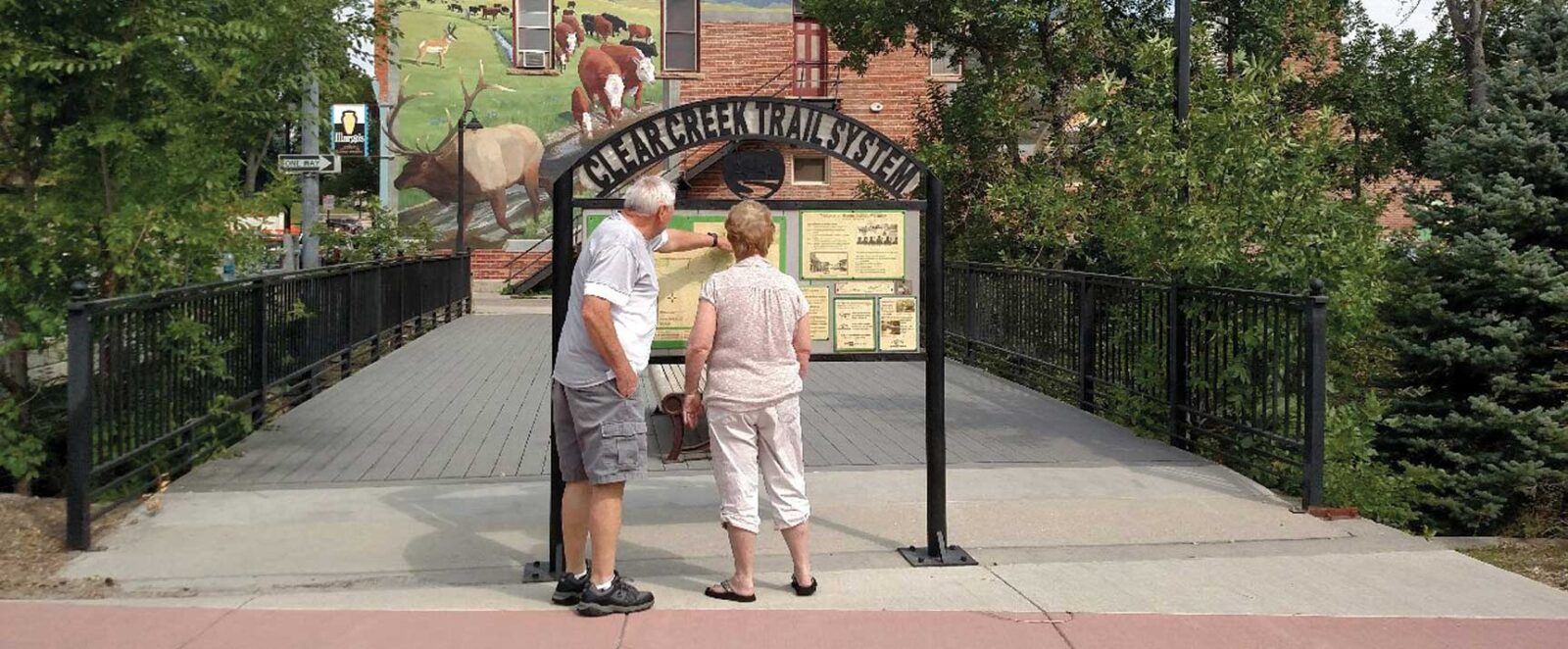 This trail has plenty of benches to rest, take a deep breath and enjoy the views and you can walk for miles without leaving earshot of the babbling creek.
Get a full Trail System map from the Buffalo Chamber of Commerce at 55 N Main, or visit www.jcrecreation.com/maps
Get Some Touring In
Jim Gatchell Museum – www.jimgatchell.com
100 Fort St – At the corner of Main and Fort Street you can learn more about our local history at the Jim Gatchell Museum.
Founded upon the artifacts local drugstore owner Theodore James "Jim" Gatchell acquired over the years as gifts from notorious characters and Plains Indian friends
Open since 1957
Exhibits range from the Johnson County Cattle Wars to Bomber Mountain, the Indian Wars & more.
Well-stocked gift shop…bring something fun home with you!
Hours: Mon-Sat: 9-5 p.m. | Sunday: 12-5 p.m.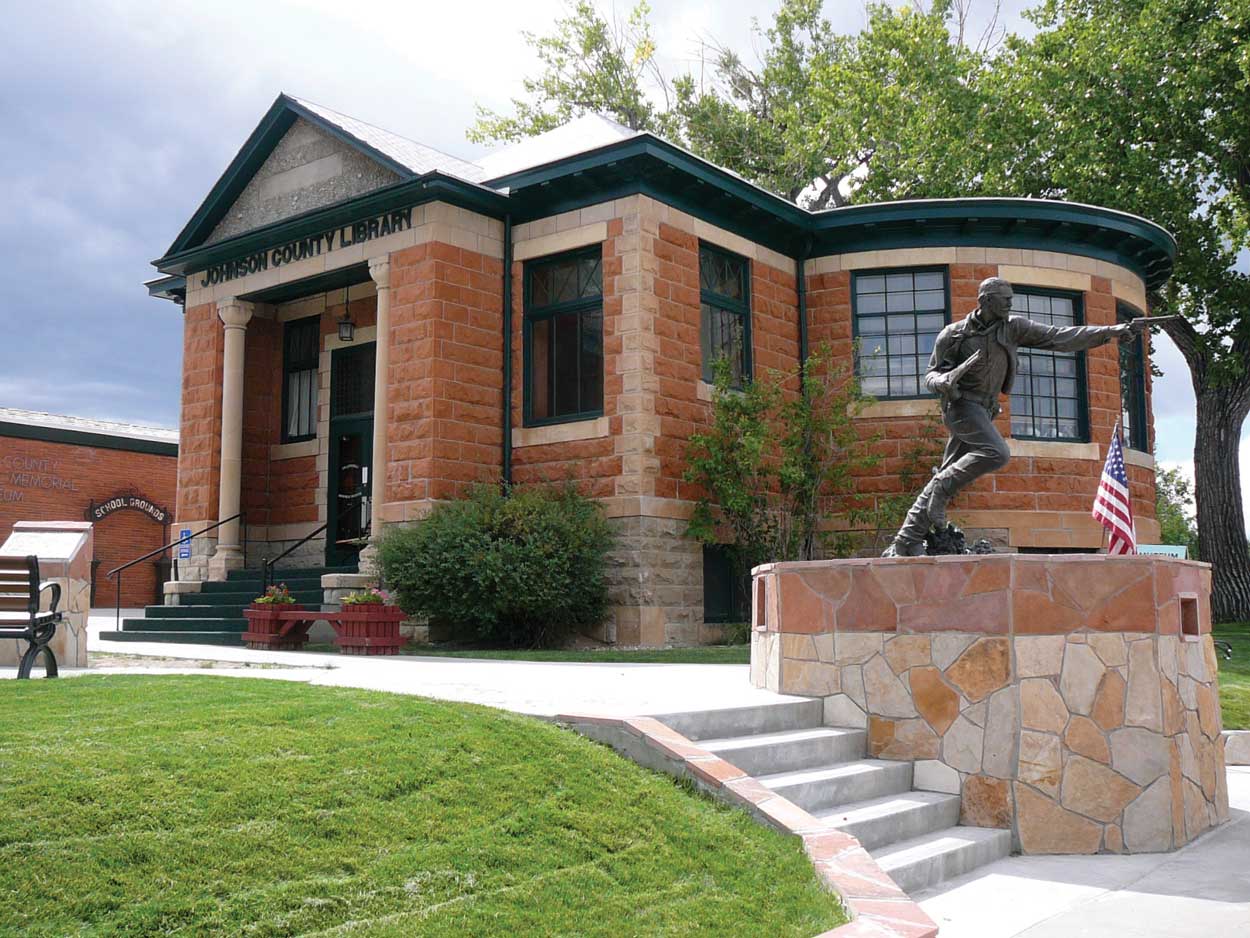 Mountain Meadow Wool – www.mountainmeadowwool.com
22 Plains Dr – Just east of town on HWY 16 – Wyoming's only wool spinning mill, created to help revitalize the American wool industry, preserve the West, create American made high-quality products through eco-friendly operations and offer fair prices for ranchers.
Family operated mill, started by 2 women who were determined to bring the wool industry back to life
Offering a once in a lifetime tour experience where you can take in the entire process from raw shorn wool to beautifully hand dyed finished yarn.
Beautiful retail space where you always can find something to bring home. You will never look at skeins of yarn the same way!
Ask About Their Tours!
Step Back in Time
Step into the Occidental Hotel & Saloon to finish the afternoon. A family friendly Saloon & Grill, have a drink and appetizers at the famous bar and raise your glass to historical frequenters the likes of Butch Cassidy and the Hole in the Wall Gang, Calamity Jane, Buffalo Bill, Tom Horn, the young Teddy Roosevelt….and many more.
If you happen to be there on a Thursday at around 7 pm, don't miss out on the famous Thursday Night Jam, comprised of local bluegrass musicians and the occasional traveling artist.
It's a Buffalo Institution and a real experience of the West!
Get Your Dining On
And finally, just walk a few steps and experience the Historic Virginian Restaurant which is part of the Occidental Hotel. Whether you're in the mood for scallops, beef or bison steaks, proprietor, Jennifer Johnson, is there to make sure that you have a fantastic meal.
Other Great Supper Options on Main Street:
4th on Main – Locally Sourced, Gourmet Comfort Food
Up in Smoke – Organic Smokehouse
Pie Zanos – Eclectic, Fine Italian
Papa Binos – N Main – Authentic Sit Down Mexican
China Garden – N Main – Chinese Cuisine
Steakhouse Options just East of Town on Hwy 16E:
Bozeman Trail Steakhouse – Family Friendly Dining and a Truly Western Atmosphere
Winchester Steakhouse – Family Friendly Dining, Famous for its House Made Scones and Exceptional Steaks
Fast Food Options on Hart Street:
McDonalds | Hardees | Subway | Dominoes | Pizza Hut | The Breadboard | Albertanos