Looking to keep it closer to town? Day Three offers hiking, snow shoeing and fat tire biking opportunities galore, both in town and just minutes away. Make it a half day, or a full day with lunch dowtown at one of our many fine restaurants.
Download the complete 3 day itinerary at the bottom of the page. Let's hit some trails!
Around Town – Clear Creek Trail System
Clear Creek Trail System offers 7 miles of multi-use, maintained trails winding it's way along Clear Creek. Starting on the east side of Buffalo, you can join the trail system all the way through town, including Main Street, Burritt and Klondike Road.
This trail winds all the way up towards Mosier Gulch, where it meets up with the Mentok trail which takes you into Mosier Gulch and up to Grouse Mountain.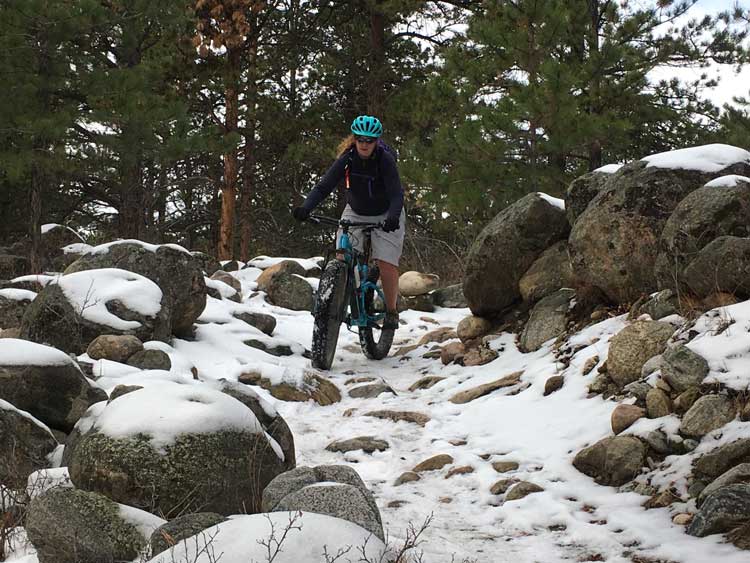 Hiking:
This trail is especially great for an easy walk. Mostly flat, there are benches along the way to sit down and take in the beautiful views.
Snowshoeing:
Hit the trails at Buffalo Golf Club (also used for cross country skiing). Groomed and maintained, this little gem is just minutes from downtown and is complete with dining & drinks.
Get a Clear Creek Trail System map here.
Fat Tire Biking:
Excellent for beginner to intermediate biking, all year round. Maintained and easy to access, you can wind your way along Clear Creek, take in gorgeous views and wildlife sightings, all while staying close to town. Meets up with the Mentock trail (considered the "signature trail").
Follow this all the way up Mosier Gulch, or up to the face of Grouse Mountain and over via switchbacks for an intermediate to advanced ride. Learn more on our blog – Fat Tire Fantasy in the Bighorns
Out of Town
Our area is chock full of places to get out and get into the fresh winter air and scenery, and just minutes from town.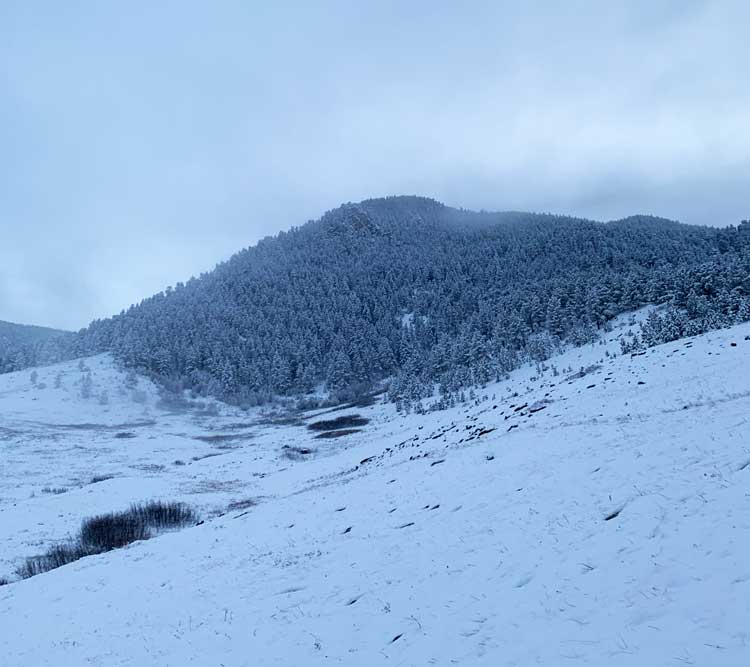 Bud Love Wildlife Habitat Management Area: Snowshoeing, Fat Tire Biking
Close to town, just 6 miles northwest on French Creek Rd, this area offers 7,900 public acres with 2 entrances, each with equal diversity and opportunity.
Strap on the snowshoes for a gorgeous hike. In any direction you choose to go, you'll experience beauty and likely see wildlife at the face of the Bighorns.
Excellent for fat tire biking, game trails meet up with established trails for spectacular, personalized biking adventure. (Closed Jan 1 – May 14.)
Smith Trust-Bull Creek: Snowshoeing, Fat Tire Biking
Head south, young man, head south. This area offers 2,700 public acres worth of another perspective of the face of the Bighorns, just a few miles south of town on Klondike Road.
Running all the way to the face and Mosier Gulch, this area is wide open, with rolling hills all the way up to the face. Wildlife abounds and even some cattle if you're there at the right time.
Get gear, tips and advice at the Sports Lure, downtown Buffalo.